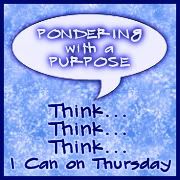 This Week's prompt is:
What are you most comfortable in?
I am not a high fashion gal. I don't own a pair of heels more than 2-1/2" high, and I don't wear skirts above the knee. My cleavage is a secret--I think it is somewhere around my waist, now.
Don't get me wrong, I do like to look nice, but wearing comfortable apparel is my first priority, looking good comes in second, and wearing the current fad is a distant third.
Now that it is summer, I wear shorts or capris and short sleeved tees almost all the time. For church, I love those long gauzy skirts. They are so cool (as in keeping me comfortable). I have them it all kinds of floral prints, both bright and subdued. Match that with a solid tee, with maybe a bit of sparkle and I am "dressed up"
Shoes--I have a couple that I most often wear. The sandals are comfortable, and these new Nike tennis shoes, I am breaking in for vacation. I have another pair in solid white that I usually wear