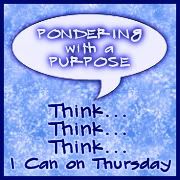 This Week's prompt is:
Talented?
Do you do something... that you learned in school or as a child... that your children have no idea how to do?
When I read today's thought, I was reminded of a conversation that I had with my middle daughter many years ago. I had decided that it was time that she learned how to sew. I bought a simple dress pattern and some fabric and started to show her how easy this project would be. About five minutes into the lesson, she turned to me and stated as only an eight year old could, "Mom, why should I learn how to do this, cause your my Mom, right? and you know how, right?" I'm afraid that was the end of it. Then a few years back, I gave her one of my old sewing machines--it worked fine but just didn't have all the latest technology. Do you know what she said? "Thanks Mom, now when you come to visit, you can mend some of my things".
I can do a lot of things, but for whatever reason none of my kids got the creative gene. But it does make me feel needed. I know that they are glad to see me because there is always a list of projects.