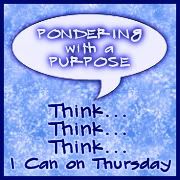 This Week's prompt is:
Life or Living?
Are you living your life . . . or is your life your living?
For me life is an adventure. I do have goals that I try to achieve but never at the expense of opportunity. All too often, I think that many people miss out on a chance to experience a unique moment because they are busy doing the expected. Example--if you are in the middle of doing dishes and glance out the window and see the evening sky starting to color, do you dry your hand and go out and watch the symphony of colors
play their parting melody
--coral and turquoise changing into gold, then red, and finally a last note of purple , or do you tell yourself, "let me just finish the pots and pans, wipe down the cupboards, and put a load of laundry in then I'll take a peak at the sky", just five minutes have ticked by, but you discover that only a slight purple tinges the horizon. My question: was finishing the chores at the expense of making your soul sing worth it?
What is more important, stopping your hectic pace to take a few minutes and play Barbie's with your little girl, and help your son build a Lego truck or get the yard work done?
Life passes so quickly. I feel that when we have a chance to do something out of the ordinary we need to grab that moment, experience it, treasure it for those are the times that make the lasting impressions.