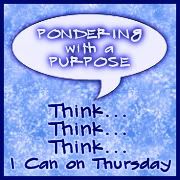 This Week's prompt: Letters? Email? Phone call? Chat Room? Text?
Which method of communication do you prefer?And is it the one that you find you are using the most?
My mother used to write the most interesting letters. They went way beyond the usual "How are you, I am fine" variety. In them she would tell of interesting things that happened, unusual things that she saw, problems that were laying heavy on her mind. Some times she would include a recipe for a favorite dish she had just discovered, or she might send a small swatch of fabric for the dress that she was making. The questions she asked were thoughtful, and showed that she really was interested in me and what I was doing.
Unfortunately, that gift for the most part has been lost on the current generation. Now communications consists of "How r u? wl c u sn" sent on a smart phone. About the only thing we get in the mail are bills, and those ads that are good for lining the puppies' kennel. And I fear, that I am guilty also. I was trying to remember the last time I sent a letter by post. Almost all my communication is by e-mail.
I do regularly send handmade cards with a short handwritten greeting. And I know that when I receive a card I have a special connection with that person. I often will display it on a shelf in my kitchen so I can enjoy it often. Written communications can be savored over time. Whereas e-mails may be saved, but often after answering they are either filed away or go the way of the delete button. I know that in our busy lives we are always finding ways to save time and money, but it's too bad that letter writing is a victim.