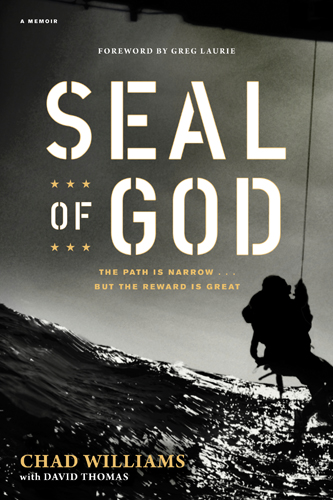 This is the story of a young man who is naturally gifted athletically. He achieves levels others only dream of and then gets bored--seeking the next thrill, the next bit of excitement. He frustrates his father by never sticking with anything.
Chad winds up making a connection with a retired Navy Seal that changes the course and shape of his life forever. The story of his determined preparation and the relationship he has with his mentor is a study of his determination. Then t
he tragic loss of his mentor in a brutally attack in Iraq serves to cement Chad's desire to be a Navy Seal. His SEAL training was a grueling process of preparation both physical and mental.
One of only 13 from a class of 173 to make it straight through to graduation, Chad served his country on SEALTeams One and Seven for five years, completing tours of duty in the Philippines, Saudi Arabia, Bahrain, and Iraq.
That accomplishment, great as it was, only served as the vehicle for the real change and achievement in Chad's life. The real story within the story is how he came to faith, how he grew, how that faith was challenged while he was a Seal, and then provided the opportunity for him to take that same level of determination and turn it into full-time ministry.
Chad Williams, this former Navy SEAL, served his country proudly from 2004-2010. Now engaged in full-time ministry work, Chad uses the training and experience he gained as a SEAL to help communicate the Gospel to others. Chad and his wife, Aubrey, live in Huntington Beach, California.
Although this might be considered a "man's" book. I was totally engaged with the path that this teenage boy traveled to manhood, and the problems that he faced that are common to so many of us.