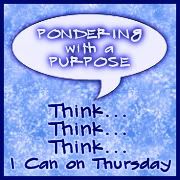 This Week's prompt is:
Wander
It seems that I often wander not only on my path, but in my goals and dreams. I search often for truth and direction.

When I thought about the meaning of wander, I remembered the haunting lyrics of the

Kamelot

song.




Silently we wander
Into this void of consequence
My shade will always haunt her
But she will be my guiding light

In search of truth and confidence
So many hopes were lost here
As I sat in the moonlight tonight, I let my thoughts wander along the paths of yesterday. I had finished dinner with friends and now was home contemplating a conversation we had regarding past friends. I recalled many of the people that I had known and how our paths connected for a while, then some traveled a different road. I had a unique memory of each, some happy, some sad, some hurtful. But it was this mosaic of experiences that has made me who I am today.
I love to wander through the memories of growing up, the wonderful days as a child, the challenging times of youth, the sweet days of romance. But there are also memories of hard times, loneliness, fear and pain.
As these aimless thoughts are reflected on the mirror of my mind
I find my roots, my strengths and my accomplishment.
They reflect who I have become just as tonight's moonlight is but a reflection coming from another place.
There is peace in this wandering of memories.