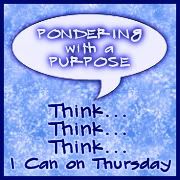 This Week's prompt is:
Getting Away?
Why do people want to get away? Do they think that it will solve their problems? or is to rest from their hectic lives? or perhaps is it running away from an intolerable situation?
A change of scenery is refreshing and gives me a sense of appreciation of all the wonders that are in our world, but I cannot help but wonder at how unique I am. As the Psalmist states "
Thank you for making me so
wonderfully
complex! Your workmanship is marvelous--how well I know it." Psalms 139:14
I only need to quiet myself and look inward to realize that I am special. I don't have to take a trip or even leave home to be refreshed.
This quote expresses my thoughts on "getting away".
Men go abroad to wonder at the heights of mountains, at the huge waves of the sea, at the long courses of the rivers, at the vast compass of the ocean, at the circular motions of the stars, and they pass by themselves without wondering. ~St. Augustine