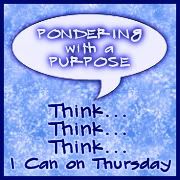 Today's prompt is:
Sign
Some people are always looking for a sign to give them guidance for direction to do a certain thing. I suppose that they want a clear cut road to life.
I'm glad that there are warning signs about
treacherous road conditions, sites of interest along the highway, and attractions that are not to be missed. But if we are always just following the signs, then we are bound to miss some of life's highlights. It's good to be impulsive once in awhile--indulge in your curiosity. Many of life's treasures are not pointed out by a sign but are revealed to those who will take a chance, act spontaneously. Those are the things of special memories.