1. Summertime is a season of reunions, weddings, and other family celebrations and gatherings...are any of the above on your calendar in the next two months?
Not this year. I try and visit family every other year, so maybe next year I will be able to connect with all my brothers and sister, and my Oregon daughter.
2. June is National Iced Tea Month...are you an iced tea drinker? If so, how do you like yours (sweet, flavored, etc)?
I love iced tea, slightly sweetened with lemon.
3. When were you last nervous? Looking back, was the 'event' actually nerve-worthy?
I sometimes get nervous before doctor's appointments. I great doctors, but just never am sure what they are going to tell me. Ninety percent of the time it was needless worry.
4. The bristle toothbrush was invented in China on June 26, 1498...not sure how that date was pinned down so precisely but, on a scale of 1-10, with 10 being sick to your stomach and 1 being not at all, how nervous do you feel when you're headed to the dentist? Do you see your dentist twice a year?
I would rate going to the dentist about a 15. I have good teeth now, brush and floss regularly and haven't been in over five years.
5. What's making news in your town this week?
Besides the disgusting Jodi Arias trial how about this news--
GOLD CANYON, AZ (CBS5) -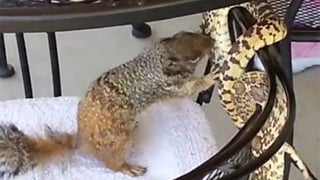 A Gold Canyon woman called 911 and told the dispatcher there was brawl on her back patio between a gopher snake and a ground squirrel."Typically the ground squirrel is food for a snake so it was kind of interesting to see the tables turned a little bit," said Philip.
Firefighters had to step in and break up the brawl. The snake had a few nicks when it was released back into the desert but firefighters told me it looked like it would be just fine.
6. Curtains, drapes, blinds...your window treatment of choice? Are there any bare windows in your house? Is that by choice or because you haven't gotten around to covering them?
I have wooden shutters on all of my windows except two of the bedrooms. On those I have drapes. My french door has built in blinds between the glass panes.
7. Summertime is officially here (in the Northern hemisphere anyway)...what one song is a must-have on your summer playlist?
You are no fun! Only one--first comes to mind Don Henley's Boys of Summer
8. Insert your own random thought here.
Last week my daughter's home was in danger due to the Doce forest fire near Prescott. They were under evacuation standby all week. The order was finally lifted Sunday. The fire came within a few miles of their home.
This is the plane that flew over their neighbors house taken by his contractor it is amazing!!!