Supper with friends at Johnny Fox's
Granddaughter practicing for her dance recital
Yellow Bells adding bright color to front yard
Catching some late afternoon rays.
The first challenge was a color challenge. Create a card using at least 4 of the 5 above colors: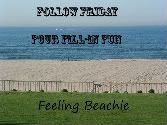 Each week, Hilary listi four statements with a blank for you to fill in on your own blogs. If you want to join the fun and come up with four fill in's of your own, please email them to her at Hilary@feelingbeachie.com. If she uses them, she will add you as co-host to the hop!
This week's statements:
1. Sometimes I wonder if I should _have a yard sale and get rid of a bunch of stuff_ but I know I won't.

2. _Chocolate___is my favorite flavor of _ice cream_

3. The thing I remember most vividly about _my Hawaiian vacation is _the lush tropical scenery. Living in the desert it was a treat_

4. When I am honest about it, I really _know that I have a lot of talents I can share with others.