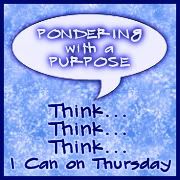 This Week's prompt is:
In-Laws
When I was married, I had a wonderful mother-in-law. She was supportive, energetic, and boy did she have a bunch of good recipes. I had been married for three years before I met her, so I was a little bit apprehensive, but she was warm and accepting, plus I had given her a sweet little granddaughter, and a grandson was on the way. Even after I was divorced, she wanted to be part of my family, and I was glad to have her as a friend.
I have various brother and sister-in-laws. Each one of them are my friends. My brother-in-law is a quiet, intelligent man, who is happiest when he works in his shop. He is an artist--engraving guns. One sister-in-law is an outstanding horse trainer, the other is a down to earth gal who loves to cook. But what makes them all special to me is that they truly love my siblings and make them happy. The same can be said with my son and daughter-in-law. And there isn't anything more that I could desire than that.