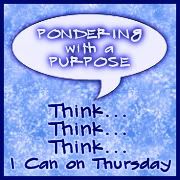 This Week's prompt:
Blogging Rut?
I have observed that many people loose interest in something often because it has become a chore, or mundane. It could be cleaning closets, weeding the garden or blogging.
I have found a few things that keep me on track blogging. First of all take it easy. There isn't a law that says you have to post every day. Take a week sabbatical.
As you read posts, look for a way to help someone. It may be looking up a recipe for them, offering encouragement, or sending them a warm greeting.
If you feel compelled to post, keep it simple--maybe just a quote or a joke. Add variety. You can break a pattern. If you always post your thoughts on say, Tuesday, mix it up, post a picture instead.
Don't forget to surround yourself with people. Our online friends are important, but so are touchable one.
So I guess that I could sum up how I keep from getting in a rut, by saying Make things fun, project yourself, and strive for variety.
Today's post is late because blogger was down. But I was able to get some extra chores done instead of posting.