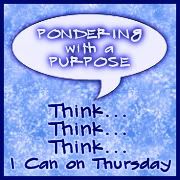 This Week's prompt:
Are you a listener?
or are you a talker?
| | |
| --- | --- |
| One of the wisest men from Biblical times--Solomon--wrote these words. | |
Pro 12:15
Fools think their own way is right, but the wise listen to others.
I have found so many times that it is wise to listen, and by that I mean not just hear what someone is saying, but to actually listen. What are they trying to say? What is it that they need?--just someone to vent to, or someone to sympathize, or someone who can offer a solution. So often, being the fix-it person that I am, I jump in and try to solve their situation, only to find that they were only venting, and after getting rid of their stress they were quite able to handle the problem in their own way.
One the other hand, when I have a problem and am struggling with what to do, I have found it wise to listen to what others say. I may get a dozen different solutions, maybe one of them will work or perhaps none of them will, but I have options, often things that I hadn't thought of. And maybe one of these options will trigger the correct response for me.
So, I am definitely a listener.