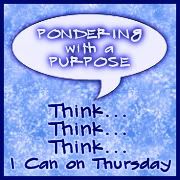 This Week's prompt:
The blogging world
Blogger friends vs 'real' friends
I guess that you have to define what a friend is before you can compare these two types of friends. According to Webster, a friend is
1. a person attached to another by feelings of affection or personal regard.
2.
a person who gives assistance or
supporter: friends of the Boston Symphony.
3.
a person who is on good terms with another; a person who is not hostile.
As I see it, both blogger friends and in person friends can fulfill these criteria. I have many blogger friends that, although I have never personally met them, I feel connected to them. I have followed them through their trials and triumphs, some I correspond not only on their blog but through e-mail.
At times I have been able to assist these on line friends with some need of theirs, and feel that I am on good terms with them.
In person friends have the advantage of being able to see you, and sometimes read your feelings by your expressions, and the nuances of your body language.
Both types of friends are important to me and have enriched my life.