Highlights of my Week
Sometimes I just have to treat myself--dinner at Golden Corral was great
The house behind mine burned. The homeowner ran back into the inferno to save his two cats. Luckily they all survived.
Golden sky this morning was a good start to the day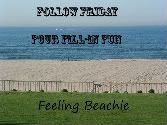 Each week, Hilary lists four statements with a blank for you to fill in on your own blogs. If you want to join the fun and come up with four fill in's of your own, please email them to her at Hilary@feelingbeachie.com. If she uses them, she will add you as co-host to the hop!
This week's statements:
1) Sometimes I feel like there is so __much dust in my house___ and that I will never _have clean surfaces (Thanks dust storms!)____.
2) I never tire of __reading___
3) I love the charity _Samaritan's Purse__ because it strives to __bring happiness to the underprivileged__
4) My dream job would be _a cruise director___ because I'd get to __travel all over the world___