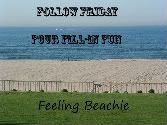 Each week, Hilary listi four statements with a blank for you to fill in on your own blogs. If you want to join the fun and come up with four fill in's of your own, please email them to her at Hilary@feelingbeachie.com. If she uses them, she will add you as co-host to the hop!
This week's statements:


1) I always _

read my

____ texts

as soon as possible, as it is the only way my kids communicate.
2) A love to fall asleep when _it's cold outside and I am snuggle under my comforter___
3) My dream pet would be a ___pet rock_____ named ____Balboa____.
4) I love ___playing with my grandkids____ more than chocolate. (Or ice cream!!)