Highlights of my Week
Here are some of beauties of nature that inspired me this week:
Moon in the morning
Sunrise that same morning--Oh what a beautiful morning
Storm clouds gathered
Angel wings
Breakfast rush--The bees at rush hour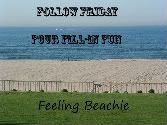 Each week, Hilary listi four statements with a blank for you to fill in on your own blogs. If you want to join the fun and come up with four fill in's of your own, please email them to her at Hilary@feelingbeachie.com. If she uses them, she will add you as co-host to the hop!
This week's statements:
1) I love to _walk in the rain___
2) When I _get up in the mornings___ I am _excited to see what the day holds____
3) I love to listen to __jazz when it rains____ because it makes me feel _special____
4) I never thought I would __
recover
__ after _
my divorce, but now I am better than ever.
___