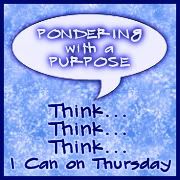 This Week's prompt is: Collections
I am so glad that this weeks prompt was plural. Not that I am a hoarder, by any means, but I certainly am a collector. If I like one of anything, well then, two or more has got to be better. I love plurals! I have some serious collection that make me happy.
I enjoy making scale miniatures, so of course I have a collection of miniatures. In this display are a few of the things that I have made. On the top shelf is a Victorian bassinet in 1/12 scale (One inch equals one foot). The second shelf has a couple of houses in 1/144 scale.
Another thing that I love to collect are chickens. I have a lot of chickens in my kitchen. Above my cupboards I have several basket and ceramic hens. Elsewhere, I have chicken paintings and plates.
Another collection that I have in my kitchen are my cream pitchers, with a couple of unusual cups and saucers thrown in for good measure. I love so many of the old china patterns, and collecting sets would have been just too expensive and cumbersome. Most everyone collects salt and pepper shakers, so I decided that I would remind myself of those great old patterns with cream pitchers. One of my most treasured pitchers is on the middle shelf, second from the left. It is a paper thin while porcelain pitcher made in Ireland that my mother-in-law gave me over 30 years ago.
I collect other things, such as Santas, and ethnic textiles, but the collection that brings me the most joy is my collection of angels. Some years, I decorate my Christmas tree exclusively with angels, and I always display a lot of them at the holiday season. But a few of them are out year round. The picture below is of a few of the angel magnets on my refrigerator. The angel with the most meaning to me is the one made of mirrors. In 1994 my mother was in the intensive care unit of OHSU hospital in Portland Oregon. The intensive care waiting room was furnished with benches, and those waiting relatives were welcome to spend the night, sleeping there. I spent about a week living in the waiting room while my mom recovered from a brown recluse spider bite. One of the other ladies waiting had a husband who was to receive the first lung transplant that OHSU had performed. This woman was from Alaska where she had a radio ministry program. She was such a comfort to all the families waiting there, offering words of encouragement, and prayers. When someone's loved one didn't make it, she comforted them. Even though her husband was in critical condition, she took the time to minister to others. She gave me this mirror angel that she had made as a reminder that God has angels watching over us.
So, you have been able to share with me some of my collections and the stories behind a couple of them. I collect what brings a smile to my face. I smile a lot.