Highlights of my Week
Fall is a beautiful time of year as nature throws one last fling before winter. These are some of its offerings:
Lily of the Nile
Marigolds
Moon in western sky
Sun in eastern sky same day same time
Snapdragons
Mums and chili peppers
Yellow bells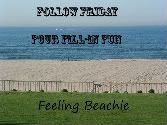 Each week, Hilary listi four statements with a blank for you to fill in on your own blogs. If you want to join the fun and come up with four fill in's of your own, please email them to her at Hilary@feelingbeachie.com. If she uses them, she will add you as co-host to the hop!
This week's statements:
1) I am so __excited__ for my __vacation to start next week___
2) __
Believe
__ me, I _
am a very lucky girl
_____
3) I am ___
good
____ at keeping secrets.
4) I _
wish
___ that __
October 27th
__ was here already.