Highlights of my Week
Monsoon storms this week
Roses, Chocolates and a teddy bear from my sweet man
Never too old for a cute teddy bear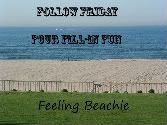 Each week, Hilary listi four statements with a blank for you to fill in on your own blogs. If you want to join the fun and come up with four fill in's of your own, please email them to her at Hilary@feelingbeachie.com. If she uses them, she will add you as co-host to the hop!
This week's statements:


1) _

Saturday afternoons

___ are the _

hardest

___ times to _

have to run errands

___
2) No matter how hard I try I still can't __

lose these last 20 pounds

___
3) When I was young I thought turning 30 meant _

the end was near

___ but now I know it means_

life has hardly begun

__
4) I love to cook _

grilled fish and vegetables

___ for dinner. When I am in a hurry my go to meal is _

a snack bar.
__