Highlights of my Week
A slash of rainbow in the morning sky
Fiery sunrise
Got my flu shot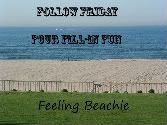 Each week, Hilary listi four statements with a blank for you to fill in on your own blogs. If you want to join the fun and come up with four fill in's of your own, please email them to her at Hilary@feelingbeachie.com. If she uses them, she will add you as co-host to the hop!
This week's statements:


1) __

Love

_______ happens

when you think it is impossible.

2) I hate when you _wake up___ and __find you are out of coffee___

3) The bravest thing I have ever done is __hike out of a ski area with a broken wrist and a hairline fracture of my hip_________
4) I like my __Kindle___________ and ___a tall glass of ice tea on these 105+ days_.