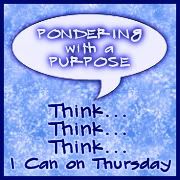 This Week's prompt is:
Loss
When you have lived as many years as I have, loss is inevitable. I have lost my parents and a sister through death. I have lost a husband through divorce. I have lost grandchildren to drugs. Every loss leaves its mark on my life, but I try and remember the quote that "healing is a journey, not a destination or a point in time". It's an evolving process that is never completely over. As I travel this road I choose to
Devote time to family and friends
Appreciate what I have
Maintain a good outlook
Find a sense of purpose
Live in the moment
I can't change the past--only learn from it. I can't foretell the future--only wait for it. I can only live in this moment and I choose to be happy, to remember the good things, and to remember that loss is a part of living.