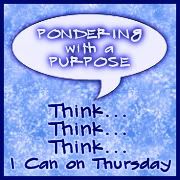 This Week's prompt is:
Resolutions
I resolve to-- The steady stream of Christmas carols on the radio has been replaced by a myriad of ads telling us that we MUST resolve to change the way we eat, what we drive, where we go for dinner, even what underwear to buy. With all the hype, the idea of resolutions has been watered down to just a passing fad. It seems that we don't have to use any thought process to find out on what we need to focus. So it's hard for me to make a meaningful resolution and just as hard for others to believe that I really do mean it.
I try and make some goals that I want to work toward in the new year. I list them, figure out how to achieve them, tell my friends, and track my progress. I know some days, I won't make progress, or might even slip back a step or two, but it is a journey and I keep slogging along. This past year, I had a goal of losing weight--I lost about 50 pounds, and exercising more--I joined a gym and go six times a week. I also had wanted to spend more time on my art--that has been hit and miss.
So I do set goals, evaluate them regularly, adapt them to my current situation, and try to remember that if I fail doing one, today I can try again. It's okay to fail, it's not okay to just give up without a fight.