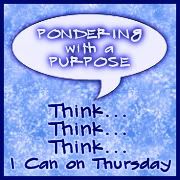 This Week's prompt is:
Your Life
If you could start over, what would you be doing right now?
This is such a tempting thought. If I had made different choices in my past, how would they have affected the outcome of my life. There are certainly some things that I regret, but if I had not done them what would have been the ramifications.
As an example, my ex-husband turned out to be an abusive alcoholic. The signs were there before I married, but like most I wore rose colored glasses. Had I not married him, however, I would not have my three wonderful children--people who are productive members of society. I would not have my precious grandchildren--the lights of my life. I would not have been able to have lived in Europe, and experienced all the adventures there. And I would not have had the life experiences that now help me to deal with people who are in similar situations.
So although my marriage turned out badly, looking back, I can see that it taught me many things, and prepared me for other events that I have had to face. I am now more confident, self-reliant and content. Without going through this experience, I might be in a worse place than I am now.
So I am content to leave my life in God's hands, and trust His leading.
Jeremiah 29:11 NIV
For I know the plans I have for you," declares the LORD, "plans to prosper you and not to harm you, plans to give you hope and a future".