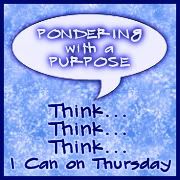 This Week's prompt is:
Love thyself?
I know that some people may say that to say that if you love yourself it is prideful or even arrogant, but I have a different opinion. I believe that you have to love who you are, accept yourself even with all your warts in order to be happy. Now, I'm not saying that you should think you are perfect, because, of course you aren't, but you have to realize that you are a person of worth, having value just as you are.
Your shortcomings keep you humble, but also help define you as an individual and give you direction for improvement. How you deal with your situation can give you strength for future problems, and also be a guide for others to follow.
I love that I have life and the challenges that I face, knowing that I am a work in progress. I do love me!