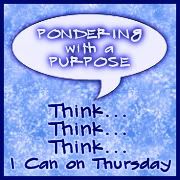 This Week's prompt is:
Time flies
I often wonder why as I get older time seems to accelerate. Don't you all remember back when you were a kid how the month between Thanksgiving and Christmas seemed to last forever! And summer vacation was one glorious long holiday with no end in sight! What is the difference? Could it be that I am so wrapped up being busy that I don't take time to enjoy each hour of the day?
When I was a kid, I had a simple life, one with few concerns. Somehow through the years, I have accumulated all this baggage of problems and worries--always planning for what I must do the next month, the next week, the next day, the next hour; and I have left no room for the child that still lies buried somewhere deep within me to enjoy the spontaneity of the moment.
Before I knew it, I had children, then grandchildren, and even great grandchildren. I had spent decades working, then retired. This all seemed to happen in the blink of an eye. I wonder if I have been so busy doing that I have missed some important moments that never will be repeated.
I think that the lesson to learn is to treat time as a child would--savor the moment, enjoy the day, treasure that which is around me, seeking the beauty and wonder of all that I see and to experience life.